IDM KwaZulu-Natal - Dwarf Savanna Sugarbush - Protea welwitschii
---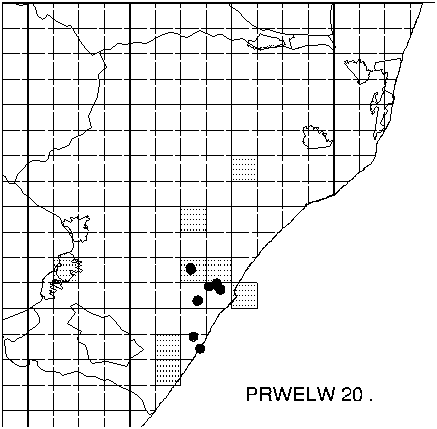 A solid black dot indicates where the species is found.
Protea welwitschii - Dwarf Savanna Sugarbush has stems with dense, long, white or brown hairs, glaucous when mature. Leaves with dense, white or brown hairs, hairless when mature except at bases. Flowerhead in clusters of 3-4, strongsickly-sweet, honey-like odour. Involucral bracts sparsely to densely covered with white to brown silky hairs. Petals 20-50 mm long. Extremely variable, we do not currently recognize any subspecies (all for the province) - but atlassers may code subspecies if they so wish.
PR WELW: Note the map in Elsa Pooley (page 132) is for Protea dracomontana and not Protea welwitschii. Note the herbarium records marked * (see Protea gaguedi) please investigate.
We have an interesting situation here where the herbarium and atlas data do not occur in the same areas. Whereas the atlas data fills the gaps between the herbarium data, the lack of congruence is interesting. Known sites that have not been atlassed are:
2831 CA Nkandla Forest 1000m, 1370m
2929 CB Sani Pass near Hotel 1800m
2930 BA 7 Oaks-Canema Clift; Greytown
2930 DA Table Mntn summit, Pietermaritzburg
2930 DB Cresthohne Rainbow Rd 595m 2931 CC Blackhill, Durban
3030 AD Dumisa Fairfield 3030 CB Port Shepstone
---
Potential Problems
Telling Protea gaguedi and Protea welwitschii apart is not that easy! Protea gaguedi has thinner leaves (5-9X longer than broad vs 2-5 for Pr welw), silver hairs on the outer involucral bracts (vs brown) and hairless mature leaves (vs slightly hairy, esp. on midribs).
The Savanna Sugarbushes have young stems which are hairy. Flower-heads are medium sized (about 50 mm across). The involucral bracts are generally covered with silky hairs. The petals are hairy, 20-50 mm long. Styles are mor than 30 mm long, usually straight or very slightly curved, and as long as or longer than the involucral bracts. Both species produce clusters of flowerheads at the ends of branches, although in Protea gaguedi the flower-head is more usually solitary.
---