Home
Mission
Overview of Project
Project Staff
Sponsors
Achievements
Checking, Illustrations
Upcoming Activities
Id and Species Lists
Protea Information
Protea Gallery
Growing Proteas
Interim Dist. Maps
Publications
Afrikaanse Inligting

Newsletter 12 - Table of Contents
---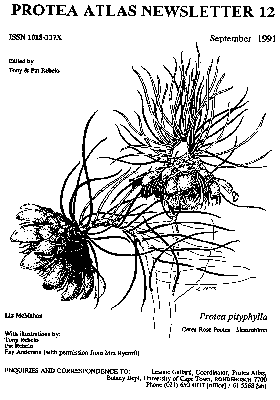 Code changes
Common names of proteas. 3. Leucadendron
Co-ordinators Report
Crossword (Quiz)
Help save Leucadendron macowanii
Identifying proteas. 9. The Spoonbract Proteas
Is Serruria elongata Stalk Spiderhead moth pollinated?
Leucadendron nervosum Jonaskop Silver Conebush on the Langeberg
Phloeonomus corner: proteiod roots, root hairs and fungi
Pr subulifolia Awl-leaf Rodent Protea on the Langeberg
Protea Atlas Manual
Protea nubigena Cloud Protea in the Drakensberg
Protea pollination (Quiz Answer)
Proteas in history. Protea repens Common Sugarbush Gewone Suikerkan
Romansrivier and Hartebeesrivier Provincial Nature Reserves deproclaimed
Leucadendron flexuosum Worcester Sunshine Conebush decimated?
Why be sympodial?
---
Back Protea Atlas News