New photographs of Climax Conebush - 'Leucadendron climacticum'
---
16 October, 2001
The site of the new species Climax Conebush - 'Leucadendron climacticum' has been visited again by the Protea Atlas Project. Tony Rebelo, Félix Forest, Gail Reeves, Steve Richardson and Nigel Forshaw were in the party to attempt to discover/prove just when this new species flowers.
So, what happened?
The plants are very close to flowering and can be considered to be in very late bud. The leaves surrounding the buds have gone bright yellow. Peak flowering is expected to be in the first week of November 2001.
Nigel Forshaw
Climax Conebush about to flower
Click here for another photograph
---
12 August, 2001
Have a look at the very latest photographs of Climax Conebush - 'Leucadendron climacticum'.
The below photographs were taken on 11 August, 2001 when the Protea Atlas Project visited the site. The party comprised Tony Rebelo (who discovered this new species), Pat Rebelo, Wendy Paisley, Wendy Hitchcock, Steve Richardson, Fiona Powrie, Sandy Smuts, Ken Thomas and Nigel Forshaw.
The party set off in very cold conditions with the wind blowing in, off a thin layer of snow lying on the Stetynskloof Mountains. To add to the icy conditions, most of the walk was on cold south facing slopes in wet fynbos that soon soaked through everybody's boots, except for Steve's boots which were gortex lined!
The site was found to have over 20 young plants and 20 mature plants.
One of our main goals was to try and determine when 'Leucadendron climacticum' flowers. All we can say is that it is in late bud just when the flowers are going to pop is not known. Only time will tell and further visits are required in the next two months!
Have a look at More about the newly discovered Conebush, Climax Conebush' and New Conebush Discovered by Atlassers which documented the discovery of this new species in March, 2001.
Nigel Forshaw
---
This shale band has to be crossed to get to the site of the new Leucadendron
Steve Richardson and Tony Rebelo on the way to vist the Leucadendron
---
The approach to where the new Leucadendron lies
---
'Leucadendron climacticum' showing off its corymbose habit
---
A juvenile 'Leucadendron climacticum' nestled in amongst Protea amplexicaulis
---
A female plant showing off those Leucadendron comosum like cones
---
A male 'Leucadendron climacticum' in late bud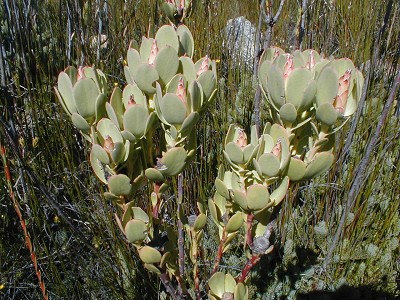 ---
A female 'Leucadendron climacticum' bud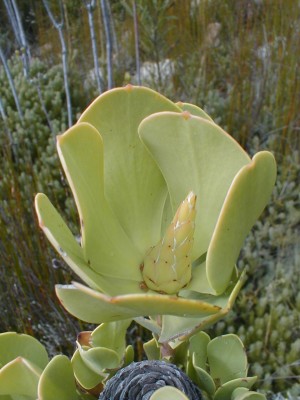 ---
Back Protea Atlas Project